So after a long hiatus, I blog again! It's always a mixed bag when I have such lengthy absences. While I regret not updating and keeping a log going of what I've been up to, it's usually because a lot is happening, and indeed this last year has been very busy!
Work keeps progressing nicely. I'm learning a lot and getting to experiment with new ideas, which is a very welcome process. The best place to be is the one you keep learning in, and there is much, much more to do. I've also returned to writing with my friends (thanks Jorge and Kev!), and the creative environment is nothing short of rejuvenating and reinvigorating!
The biggest change in my life came on July 25th, when I married the woman who changed my life. I remember thinking about blogging around that time with a simple "Hey! I'm married! woo!". However, two things worked against this. The first was that I left my computer (purposely) at home, and I hate typing with my thumbs. The second is I'd already posted on Facebook, and it made the blog oddly redundant. So here I am now, more than six months later, still battling the ocean that keeps us apart, but with a ring on my finger constantly reminding me of what victory will bring.
It's been a great year. And it's already looking to get better.
I've been developing mainly in JavaScript for the past 5 months, and thought I'd write a quick post about the experience.
I've very much enjoyed the change of scenery, moving away from the more static work and doing things that are dynamic and changing while at the same time not repetitive. Working in Flash had similar challenges, but ultimately I ran into a lot of templating and re-use of design and function. The work I'm doing now can be exciting and overwhelming, with the large number of tools and libraries out there. That said, it's probably some of the most fulfilling work I've done.
Everything tends to come back around in one form or another. A couple years back I was trying to swear off being a dev, and now I'm back in the thick of it. Sometimes you just need to have a new angle to appreciate something you've got. So thank you, JavaScript. You may make me wanna cry sometimes with cross-browser compatibility, but you've got a lot of potential, and you reminded me that I love to build.
He holds himself precariously between the three mountains. At this point, he can still touch all three at the same time, but the time has come for him to choose.
He has been at this level for what feels like eternity. His right arm tenses as it pushes against the rocks. His legs bend and flex as they push against his arm, trying to keep the balance without overpowering it. His left hand wields a spyglass, and with a strain he turns his neck to gaze up at his choice.
From where he is, all three mountains look exactly the same. They project out at the same points. They have the same places where the stones look unsteady, ready for overeager climbers to meet their downfall. They have the same caves, places for the climber to find rest or to give up and decide to go back down the mountain. And from where he is, he cannot see what awaits him at the top of any of the three.
The hour grows late. The time approaches. And he must make a choice.
Duty. Desire. Adventure.
He puts the spyglass away, takes his breath, and climbs.
Greetings, earthlings!
I had an awesome weekend with my awesome lady in the town of Koprivshtitsa, Bulgaria. It's a place of a lot of history where the movement to Bulgarian freedom began, and being the history nut that I am, it was awesome to learn about some of the country's important figures, from soldiers to diplomats to poets. On top of that, I had two awesome meals that warrant rave review.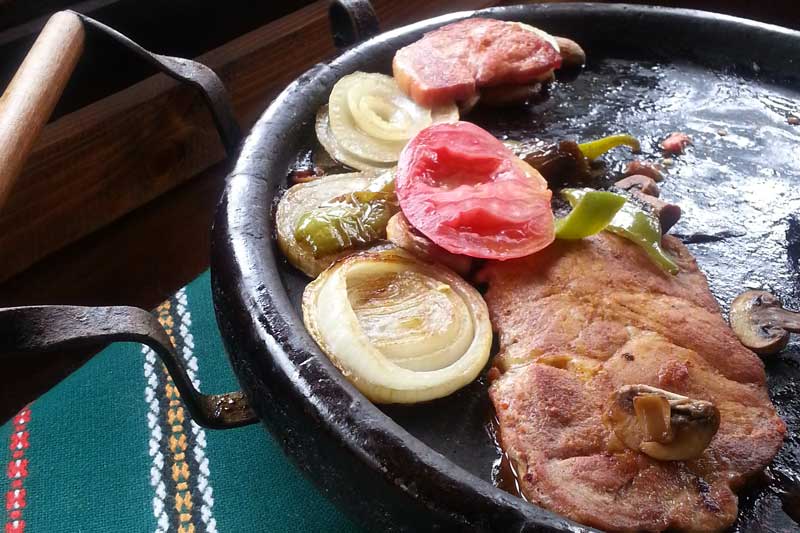 First was at a restaurant/hotel called Chuchura, where I ordered a plate of roasted pork steak, bacon, mushrooms, tomatoes, peppers, and onions. What I got was this giant skillet of deliciousness! Being the husky gent that I am, I naturally finished my skillet, and plucked a little from my love's as well.
Second was breakfast at Boncho's House, the guest house we stayed at. The room itself was worth it, but the complimentary breakfast of banitsa (a traditional Bulgarian flaky pastry filled with varying foods, in this case sirene, which is the local equivalent to feta) and a crepe with freshly picked and made raspberry jam was one of the best I've had anywhere.
All in all, the awesome weekend has me ready to tackle the coming weeks. More updates to come soon, so keep checking in and keep on keepin' on!
Greetings and salutations! So I'm in the process of changing hosts for the site, and I've had the opportunity to make several observations.
Firstly, I found my original blog database, and added the old blog posts to the current one. By doing so, I also realized that my "scant" single blog post a month that I used to pull off looks prolific compared to my current once-a-year output. It's time for that to change. So I'm making a new goal to at minimum keep this site updated with my wit and charm once a month again!
Secondly, while I continue to update my portfolio for you potential employers out there reading this, I'm also planning to add more creative content to this site, such as an archive of my roleplay writings as well as illustrations.
Thirdly, this site needs more pictures of me and my awesome facial hair.
Lastly, those old blog posts again. I highlight them so much in this post because it's very interesting for me to read and see the man I was, see the man I've become, and look forward to seeing the man I have yet to be. I had a long dry spell of blog posts while that man was getting himself sorted out (that and using a growing number of social media outlets and sites that spread that creative energy out).
Now it all starts to come together.
This month, I'll be finishing my tenure at the Nuyorican Poets Cafe. It's hard to believe it's been almost a decade since I started coming here, first competing at Rocky LaMontagne's IPA Beat Battle, then eventually working the door for his shows. Years later, I'm leaving behind helping co-produce the Words and All That! events, DJing the world famous Nuyorican Friday Night Slam, and doing sound and DJing for Urbintel's Verses, Rome Neal's Banana Puddin' Jazz, and Yerba Buena's monthly show.
I've had mixed feelings about departing. I will miss the people that I've had the privilege to work with, the artists I've seen come through and inspire, and the opportunity that was given to a young man looking for his purpose. But at the same time, being a part of all the above is what moved me to pursue my own dreams, my own passions, and I move forward with a sense of excitement and healthy fear to make my long time desire to make films come true.
So I thank all the people that gave me a chance to make something of myself, that inspired me to continue my art, and that helped get me to this point. I thank the family and friends who've believed in me, and the tests I've endured in not only taking this step, but in truly becoming a man. I'll end this with a few things I've learned, in the hopes that it helps someone in the same position I was a decade ago…
1) The three most important things you need are patience, assertiveness, and the ability to know when to use either.
2) Ask for help. No matter how good you are, you can get a lot more done when you have people you can rely on at your side.
3) Rest…rest…rest. It's hard to pursue your dreams if you're burnt out. Make time for youself.
4) Respect the past. Dream for the future. Live in the now.
5) Opportunity helps drive dreams. Pass the opportunity you've been given to the next generation.
Peace, love and respect to everyone trying to make something of themselves. It's never too late to start, and always too early to give up.
"Few tragedies can be more extensive than the stunting of life, few injustices deeper than the denial of an opportunity to strive or even to hope, by a limit imposed from without, but falsely identified as lying within." -Stephen Jay Gould
Greetings PhoenixRizin.com visitors! For a few days now I've toiled away trying to figure out what absolutely hilarious prose I was going to put together for my Christmas blog. But no matter how hard I tried, I just couldn't get into the Christmas spirit. 2006 has been challenging emotionally and financially for me and my family, and I've just wanted out of this bleek year. At the end of last year, things looked as if I would have a very prosperous year ahead, and that by this time I would have been able to provide the best Christmas we've had in some time. Instead, I looked at the prospect of almost not being able to get my family anything for this year. To me, Christmas has always been about giving (though I'd be a liar to say I didn't look forward to getting presents too!), and not being able to give back to my family is a terrible thought.
Christmas has come and gone, and while my usual enthusiasm was gone, it would be quickly be replaced by a sense of humility. Though we had all been through our ups and downs, my family managed to come together for each other when we needed each other most. Our gifts were very modest, but the best gift was just being together. I know that should be something remembered all year round, but we are human after all, and sometimes we need a reminder of whats important.
So I brave the passing of 2006 and prepare for 2007, with family and friends to guide me through the tough times. I appreciate all that life has given me so far, and if you are reading this, remember what's truly important in your life. If you don't know what that is, I'll give you a hint: it wasn't gift-wrapped.
"One sees clearly only with the heart. Anything essential is invisible to the eyes."
-The Little Prince
Peace and blessings this holiday season.
Happy Thanksgiving everyone. Hope you're all eating excessive amounts of turkey, cranberry sauce, yams, and whatever else is on the table this year. Unfortunately, the game I planned to release this year or the holiday is unfinished, but I'll probably still put it up this year, as well as a special christmas game, so stay tuned!